Archive for Dilana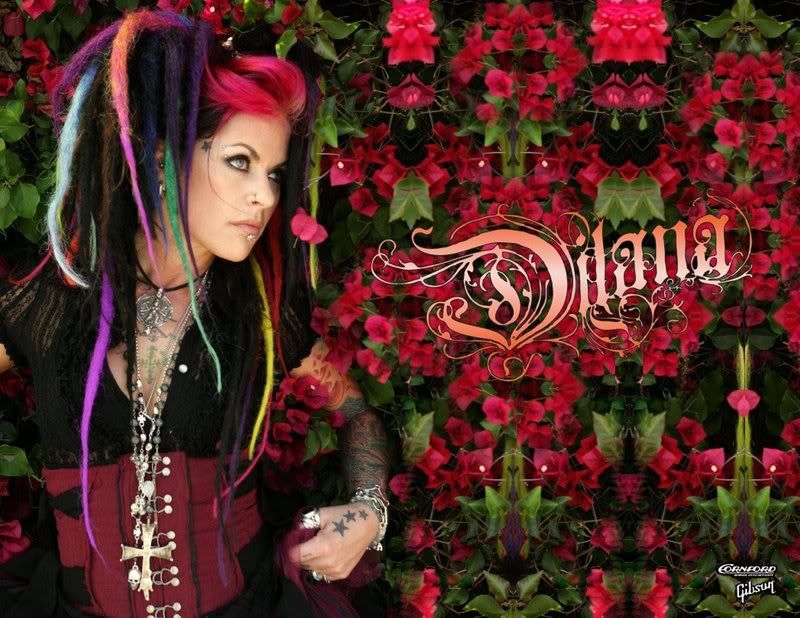 Afresh: Give me some details about the group/act/art?
EPK attached
Afresh: How long have you been performing live or making art?
25 years.
Afresh: What has been the biggest challenge for you or the group?
Breaking through in this tough industry, having creative freedom within record contracts.
Afresh: You've heard of the term "starving artists" before, how do you cope with major obstacles?
i don't have a strategy or even think of it, i just keep going.  it's kinda like breathing for me.
Afresh: Everyone loves a celebrity so what advice do you have for the youth of today?
my favorite quote:  "whether you think you can or can't, either way you're right."  believe in yourself and never give up!!
Afresh: Do you have your own favorite type of music and is it any different from what you play now?
i am growing and evolving just as any person would.  so yes, my style will change and that transformation has already begun.  i won't let the cat out the bag just quite yet!
Afresh: Do you have other interests or talents you would like to share with us?
i'm a thrill seeker, an adventure junkie.  love the out doors and physical challenges.  skydiving, riding my harley, deep sea diving, chinook helicopters, ballroom dancing and so much more.
Afresh: What has been your strong influence to continue performing?
it's a drug.
Afresh: Does anyone in particular influence your artistic/musical talent?
love, pain, life.
Afresh: Who does most of the song writing/art/literature?
i usually write the lyrics and often the melodies when collaborating with another writer.  then the music and arranging is a joint effort.
Afresh: If you had to change one thing about your music/group what do you feel would be the best change to benefit the group overall and why?
i wouldn't change anything.  my music is true to me, what would the point be other wise??
Afresh: Have you ever had any strange or stalker type fans that you are aware of?
yes when i was living n touring in holland i had a mushroom tea drinking, pot smoking psycho chic who actually took a shit in a poster tube and mailed it to one of my shows!  another time she cut out a dead pig's eye n sent it up to the stage for me!  poor girl, she ended up in some mental facility…i hope she's healed.  she was mad at me for stopping my band to go and make my 1st solo record, sad.
Afresh: While getting ready to perform have you ever been interrupted by fans who snuck in to the dressing room/rehearsal?
of course!  who hasn't??
Afresh: Tell us about your most embarrassing moment if you care to share it with us?
it takes A LOT for me to get embarrassed.  i guess one time when i was so wasted on 16 jager shots and had to be carried off stage.  then woke up later with my head on a cemetery grave stone in a puddle of puke!  NOT a proud moment!
Afresh: What has been the most bizarre thing (thrown) on the stage with you?  How did you react?
a naked guy with "dilana will u marry me?" written on his' chest!  i laughed and loved it and asked the security to be gentle with him.
Afresh: What is your wildest story?
something i cannot reveal!  let's just it involves "animals" hahahaha!!
Afresh: What are your up-to-date performance plans?  New releases?  Tours? News?
i just completed a 3 week tour through afghanistan performing for the troops.  a high light of my career!  have shows around hollywood every few months.  i never wanna over kill so i plan it carefully.  touring S africa again in April for the 2 nd annual africa bike week.  doing an icelandic rock opera project in april.  working on a 2nd feature film in august (lead role, co producing and music.  back to s.africa in oct. for the sa "grammy" awards, performing and presenting an award.  playing shows for the college circuit across the usa.  and of course, i always try n work with / for my charities!
Afresh: If you could perform with anyone in the world, either dead or alive who would it be?
johnny cash.  janis joplin.  lady gaga.
Afresh: What is the furthest show from your home that you have done?
Sydney australia, olympics 2000 and iceland.
Afresh: Have you been involved in any benefit performances?  What was it and how did you become involved?
oh sooo many i can't even remember them all.  a few that stand out are:  opening for aerosmith and the bangles for the lili claire foundation.  another in holland for the kyoto protocol. I'm performing and Emcee'ing for the Starlight Foundation next month.
Afresh: Do you currently have an agent, endorsement, record label, sponsor, etc.?
no.  been doing it all myself for almost 2 years now.  i do have an incredible group of girlfriends who help me as much as they can with all kindsa stuff.  i have a business manager, a lawyer, a personal manager/publicist, a publisher, an amazing graphic artist….together, we do whatever we can to market dilana, to book shows, to design merch etc, etc…
Afresh: Is this your first interview or do you have some other articles/stories about you posted somewhere for public viewing?
EPK attached
Afresh: Do you have any video links where people can see you?
all over youtube baby!
Afresh: Do you have a website of any type?  (Name all options)
facebook, myspace, twitter…GOOGLE dilana!
Afresh: Please feel free to add any other information you want to share with the public audience/readers.
Please let us know if you have any other questions.  Thank you so much.