Archive for AGAINST ALL WILL
AGAINST ALL WILL EXCLUSIVE INTERVIEW WITH
AFRESH ENTERTAINMENT
Afresh: What is your name, and name your group/band/act?
Jimmy Allen from Against All Will
Afresh: Where are the artists from?  What is their talent in the group?
Texas, Kansas, Missouri, and Brazil. Slamming the jams of rock.
Afresh: How did the artist/band get their name?
Out of hat filled with other band names
Afresh: What instrument do you play now? (If applicable)
Six string rock machine
Afresh: What (who) does your act/art consist of?
Ex members of SoulFly, Dead Kennedys, 7 Story Drop, and Puddle of Mudd
Afresh: How would you describe your music/art/entertainment for the public audience if they have never seen you before?
Loud, Rude and in your face rock band with catchy songs.
Afresh:  What can people expect to see at your live performance?
Good clean boys blasting Rock & Roll music.
Afresh:  If you had to describe your music in three or four words, what would you call it?
Baby making music.
Afresh: How long have you been performing live or making art?
Since I was a teenager.
Afresh: Where did you meet your group and how long have you been together now?
In the dirty streets of Hollywood. about 2 yrs
Afresh:  Before you perform live for an audience, is there anything special you like to do first, right before the show to prepare you for the event?
A shot of jack and a prayer to the rock gods.
Afresh: What has been the biggest challenge for you or the group?
trying to wade through all the bullshitting and backstabbing of the music biz.
Afresh: You've heard of the term "starving artists" before, how do you cope with major obstacles?
keeping the chin up and always moving forward, and remembering  its all about being true to yourself.
Afresh:  Do you feel the economic crunch has hurt the industry, or do you have some other promotional tips to help support your music?
Yes, stay in touch with your fan base and show them the love they give you and your music.
Afresh:  If you had the opportunity to change something about the music industry what would it be?
No more pirates stealing our music.
Afresh:  Do you have any fan comments of how your music has affected or changed them?
A woman who has a son over in Middle east said our music reminded her of her son and his love for the USA.
Afresh:  Where is your favorite place to play? Do you have a favorite city/venue?
House of Blues in Hollywood
Afresh:  Other than a t-shirt, sticker, or CD, what do you hope people leave with from one of your shows?
A good fuzzy feeling and buzzing in the ear.
Afresh: Art & Music has an impact on both young and old.  Everyone loves a celebrity, so what advice do you have for the youth of today?
Do what makes you happy and dont follow the trends.
Afresh: What does your family think of your performance and do they support you?
They love it! My family has always been really supportive with my music.
Afresh: What is your stance on how to get the public to support "live music" and see the shows?  Any ideas???
Do something fresh and different and give them there moneys worth.
Afresh: Thinking back, did your family carry on the same musical/artistic interests?
No.
Afresh: Do you have your own favorite type of music and is it any different from what you play now?
Not really? its all rock & roll in my blood.
Afresh:  If you weren't doing music, what do you think you would be doing instead?
Working in some crappy music store, selling false dreams to little kids.
Afresh: Who does most of the song writing/art/literature? (Discuss the songwriting process in detail.)
I'll start with a basic idea, then I take to the band and work it out till it feels good. Some songs take 10 minutes to write and some take 10 years.
Afresh: Tell us about your most embarrassing moment if you care to share it with us?
There is way to many to count.
Afresh: What has been the most bizarre thing (thrown) on the stage with you?  How did you react?
One time playing on stage with Puddle of Mudd I was hit hard in the chest with a flying Snickers bar. Ouch! I ate it after the show.
Afresh: What is your wildest story with the group?
since we are kinda a new band, nothing too crazy yet? But one time Wes Scantlin from Puddle and I had little after party in our room at Sunset Marquis hotel. We had Tommy Lee, Pam Anderson, Courtny Love and a bunch of pornstars. we Jammed on a acoustic version of "He Hates Me" with Miss Love taking over vocal duties.
Afresh: If you could perform with anyone in the world, either dead, alive, or broke-up who would it be? Why? (Name up to three)
Neil young, Randy Rhodes, Kurt Cobain. just to watch and learn.
Afresh:  If you had only five minutes on earth to perform one song that could leave a great impact on the world today, what song would you perform and why did you choose this particular piece?
I would go with Imagine by John Lennon because the this world needs peace.
Afresh:  What did you do before you got into the music industry?
tried to break into the music industry.
Afresh:  What do you attribute to your "drive as an artist"?
making music that people will listen to forever.
Afresh:  What do you think makes you and your type of music unique from other artists?
Its 4 guys doing what is in there hearts and because Its real.
Afresh:  As an artist, how would you define SUCCESS?
A Brand new Benz and a house on the hill.
Afresh:  Do you have much time to check out other artists' music? What are you listening to right now?
Muse, Failure, Stone Sour, Waiting For Signal, Hourcast.
Afresh:  Have you performed outside the USA before, and if so how did the live shows differ?
People love good rock anywhere.
Afresh:  For on-line purposes, what is your favorite place for your fans to find your music for purchase and/or downloads?
I-Tunes
Just for fun…..simply fill in the blanks!
Without music, I would be__Lost in time_____________.
Music is _my life and the blood inside me ________________.
My music makes me feel __alive_______________.
I write the songs because __ive got something to get out_______________.
Support music because __its pure______________.
If I wasn't doing music, I would be selling women shoes._____________.
If I had to share a dream with you, it would be Twisted and scary____________.
If I could be anywhere right now, I would want to be __Home__________.
I love to perform in front of a live audience because ___its "The Drug I Need"_________.
Buy it at I Tunes Now!
AGAINST ALL WILL
GIVES 'A RHYME & REASON' TO ROCK FANS
The All-Star Band Featuring
Former Members of Puddle of Mudd,
Soulfly, Seven Story Drop And Dead Kennedys
Tears It Up Tunefully On Their
Debut EP 'A Rhyme & Reason'
Rockers Against All Will (AAW) play hard, yet never lose sight of stirring up conflicting emotions, channeled through bracing riffs and complex, beat-anchored rhythms within their latest EP A Rhyme & Reason.
Based in Los Angeles, AAW is a rising force in rock complete with all-star musicians, including former Puddle of Mudd guitarist Jimmy Allen, drummer Steve Wilson of the Dead Kennedys, bassist Cello Dias from Soulfly and singer Jeff Current, formerly of Seven Story Drop. CWG Magazine described it, "If the band's lineup doesn't scream the holy grail of rock, then surely their sound will make you a believer."
Allen formed AAW nearly three years ago, however, his resume includes co-founding Puddle of Mudd and co-writing the band's biggest hits "Blurry," "She Hates Me" and "Drift And Die."
"Having that kind of success with Puddle and then not being in a band humbled me in a way. I needed to take a long break. The whole thing was kind of a rebirth.  I have always been doing lot of writing with other people," Allen says. "As the songs began to take shape, I started putting this band together. We played with a ton of musicians in L.A. – drummers, bass players and singers. Through this network of musicians, including bands we've been friends with and toured with for a long time, we got a lot of referrals – 'try this guy out, check out this guy.'  It was very helpful."
The members of AAW had crossed paths over the years in the Hollywood music scene and knew each other by reputation.
"When we arrived at the line-up now, it just jelled, each of the guys really bringing their own thing to the table; some people just play what they're given, but these guys each add their own little thing," Allen says.
AAW released two singles, "You Can't Change Me" (2007) and "Tomorrow & Today" (2008) gaining momentum culminating in the current band lineup and their 2009 debut album A Rhyme & Reason. The band's most recent singles, "All About You" remixed by Jeff Tomei (Matchbox 20, Smashing Pumpkins, Jerry Cantrell) and this past summer's smash hit "The Drug I Need," both garnered rock radio attention.
"With us the songs come first," Allen says.  It's about writing songs that have a lot of hooks and so on, but also depth and a perspective.  People kind of look at a song as a whole about one person or thing, when it actually may be about different situations we went through. "All About You," is about when we first started we were thinking we were rock stars dating actresses, partying, hanging out in Hollywood, burning through enough money to be stupid, Looking back, it's what were we thinking, dating actresses who then were of course lying to ten other guys and it was like, 'you're dating her, too?'
Reviewer Nadia Guardado of Hollywood Music Magazine called A Rhyme & Reason, "One of the most enjoyable and simple yet complex albums I've heard in a long time. Original from the first chord, to the last."
Crafting music in the studio is an essential part of the AAW equation. A Rhyme & Reason was recording at KoЯn Studios Hollywood, a location that the band found inspiring and unique.
"Recording at Korn Studios was a very cool experience.  We are all huge fans of Korn and creating our tones in this special space, seeing their seven string guitars and the bagpipes, was a real trip."
But the real environment that AAW thrives on is delivering the goods live.
"We're all veterans playing on the road and we want people to get their money's worth," Allen says.
The group has played various-size venues, ranging from over-heated packed clubs to larger audiences, each time emerging triumphantly, including L.A. shows at famous landmark venues such as The Viper Room,  The Roxy and House of Blues."
"We've played some theater gigs – I really love playing old theaters – and also some outdoor kind of stuff and small clubs, too." Allen says.  "But with this band, the way we're trying to go with the sound, the bigger the venue, the better."
AAW records for Subsonic Industries, an independent label created by Allen and the band's manager, music industry veteran Sam Kaiser.  Future plans include signing other artists and recently, AAW and Subsonic Industries enjoyed two of the top charting Active Rock independent label singles in Mediabase rankings, an impressive achievement for a relatively new record company.
And then there's the ever growing "AAW Army" of loyal fans registering all over the county and around the world, linked through the band's website along with their myspace and Facebook pages as well. December will see an exciting giveaway of an ESP guitar and a Baby Taylor acoustic guitar to one lucky AAW fan. Details on the drawing can be found on the official Against All Will website.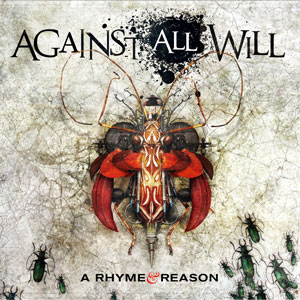 Buy the album right here now:
A Rhyme & Reason – Against All Will